Can you feel the (love) horror tonight?
Postado por Olaf em 15/10/2016
---
Brace yourselves, the Halloween event is back! Prepare for trouble, Make it double.
This year, we decided to treat (or trick?) you with all your favourite Halloween maps, to make the biggest Halloween event ever!
The "Skeleton Cat" Maps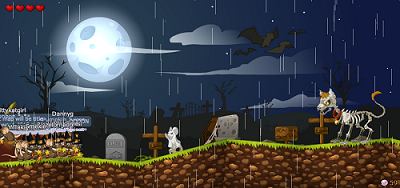 If you manage to cross the 3 long maps, you get a chance to kill the cat at the end by pressing Space to hit it with your wand! But the cat can kill you too… Beware of the cat's paw! It raises and swipes mice every few seconds, and you might lose a heart. Ghosts scatter around the area randomly, so watch out for that too! Kill the cat and gather its skull to exchange it in Drekkemaus' shop!
The Opening Doors Map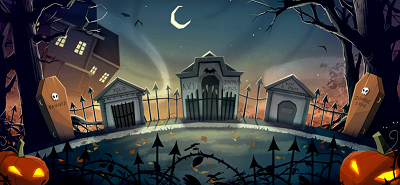 You will see two arrows, pointing at where to go. You must go to one of the places where the arrows are pointing within three seconds. In one area, there will be a piece of candy waiting for you. However, in the other area, you will find a miscellaneous surprise…
Will you make the right choice?
If you succeed, you'll get a door handle to exchange to Buffy for prizes!
"Flappy Mouse" Map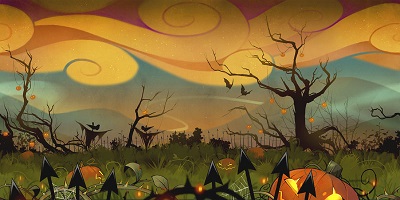 A swarm of mice witches needs to get through the pumpkin patch! Watch out for these thorny vines!
Press Up to fly on your broom and pass all the obstacles. This year, you get unlimited tries to get across the map. Get some candy, but watch out for the Broom trophy, so you can exchange it to Voldemouse for rewards!
Drekkemaus' manor and Casino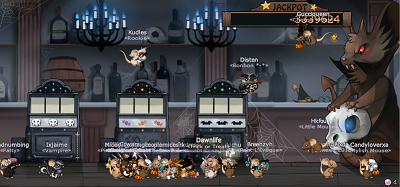 This year, the whole Drekkemaus family will await you in their manor! Gather some candy and exchange your precious trophies for various rewards in the family shops.
Then in the manor's Casino, there are 3 slot machines, where you can spend all your hard-earned candy.
– The first slot machine will cost you one candy.
– The second slot machine will cost you two candies.
– The third slot machine will cost you three candies.
Each of them will give you different prizes. So think twice before choosing a slot machine!
PRIZES!
You can earn trophies, titles, more candy, consumables, cheese and maybe… THE JACKPOT